For more information, please contact John McFarland @ 412.973.4626 or email at This e-mail address is being protected from spambots. You need JavaScript enabled to view it
WPJWA Equipment Upgrades - Read More...
Vacant Property Recovery Program - Click here for Information...
Vacant Property Recovery Program Fact Sheet - Click here

COMMERCIAL REVITALIZATION – BUSINESS DISTRICT
PHASE I
A contract has been awarded for the first of what is hoped to be several phases of proposed improvements to the Swissvale Business District. The work is anticipated to commence late May/mid June and will be performed along Washington Street between Monongahela Avenue and Palmer Street. The project will initially include such site amenities as new lighting, tree planting, handicap ramps and other such facilities. The project is funded by a Community Development Block Grant through Allegheny County. It is hoped that additional grants will be received in order to complete remaining phases of this redevelopment.
WASHINGTON STREET BRIDGE SIDEWALK
As directed by a recent Penn D.O.T. Bridge Inspection, the sidewalks have been permanently closed and an alternate sidewalk placed over this bridge. This bridge has joint ownership between the borough and the railroad. The borough's Engineer and Solicitor have been working with the Norfolk-Southern Railroad toward developing a plan to replace at least one of the existing sidewalks. The borough has also applied for grant funding toward this end.


Swissvale Youth Baseball Association: Click here for the registration flyer.
Click here for the most recent schedule for Squirrel Hill Tunnel Closures.
Traffic Alert:

Pittsburgh - Signs will be posted to guide motorists. The posted detour will require eastbound traffic to form a single lane exiting at the Squirrel Hill/Homestead interchange (Exit 74). Significant delays should be expected and alternate routes considered. The inbound (westbound) tunnel will remain open while the outbound tunnel is closed, although short-term inbound traffic stoppages may occur for equipment access and material removal.

To minimize impacts on businesses in Squirrel Hill, which will remain open and accessible, different detours are being used during day and night hours (see attached maps). PennDOT has made improvements at key intersections and police will be posted to keep traffic moving on the posted detour.

Daylight detour (6 a.m. to 8 p.m.)
Exit at Squirrel Hill (Exit 74)

Make left onto Forward Avenue

Continue taking slight right and stay on Forward Avenue

Left onto Beechwood Boulevard

Right onto Forbes Avenue

Right onto South Braddock Avenue

End detour at outbound Parkway East on-ramp
Night detour (8 p.m. to 6 a.m.)
Exit at Squirrel Hill (Exit 74)

Make left onto Forward Avenue

Continue slight left/straight onto Murray Avenue

Right onto Forbes Avenue

Right onto South Braddock Avenue

End detour at outbound Parkway East on-ramp
Motorists are reminded to use all open lanes to the single lane merge point on the Parkway East. Please be courteous to other motorists and allow them to merge. The effectiveness of traffic flow entering the detour route is highly dependent on driver behavior. Zipper! Using all lanes and allowing a consistent, courteous merge will reduce congestion and delay and help traffic move off the Parkway East through the detour.
If significant congestion and delay are occurring during the outbound closures, PennDOT suggests the following alternative:
From eastbound I-376, take the Forbes Avenue (Exit 72A) to Oakland
Continue on Forbes Avenue through Oakland
Make left onto South Bellafield Avenue
Make right onto Fifth Avenue
Continue east on Fifth Avenue
Make right onto Penn Avenue (Route 380/8)
Continue through Wilkinsburg
Access Parkway East in Forest Hills
Additional closures will be announced in the future as progress is evaluated.
PennDOT reminds motorists the tunnels remain open weekdays with only single lane closures occurring weeknights.
For general information, detour route travel times and traffic cameras, go to www.dot.state.pa.us/district11 and click the Squirrel Hill Tunnel Rehabilitation Project link on the right. The travel time and camera links are in the lower right hand corner along with other detour information. Motorists are advised to visit the website before traveling and plan trips accordingly. (Note: You may need to wait for the screen to refresh to view cameras. Cameras will only be active when detour is in use.)
The $49.5 million project to rehabilitate the Squirrel Hill Tunnel includes updating electrical, lighting, air control and ventilation systems, structural repairs to the walls and arched ceiling, tile repairs, installation of a water line and other improvements. To minimize impacts on the traveling public, rehabilitation work on the bridge that carries the Parkway East over Commercial Street will be performed as part of the tunnel project. Expansion dam on ramps at the Edgewood Swissvale interchange (Exit 77) will also be replaced. Overall work will conclude in early summer 2014.
Visit 511pa.com or call 511 from any phone to check traffic conditions on major roadways before traveling.
Get construction updates and traffic advisories from PennDOT by sending email addresses to This e-mail address is being protected from spambots. You need JavaScript enabled to view it . Please type "Subscribe-Parkway East" in the subject line.
Media Contact: Jim Struzzi, Press Officer, (412) 429-5010 (Office), (412) 292-9357 (Cell Phone)
Enterprise Zone Benefits Available in Swissvale
The Enterprise Zone Corp. of Braddock (EZCB), an I.R.S. designated 501(C)(3) non-profit corporation, was established in 1986 to promote economic and job development in the Braddock area. Since that time the corporation has put its emphasis on retaining existing businesses and actively recruiting new wholesale distribution and light manufacturing firms along with creating new employment for local residents.

Subsequently the EZCB in conjunction with the municipalities of Braddock, North Braddock, Rankin and Swissvale expanded the Braddock Enterprise Zone into the adjoining communities. This initiative extended Enterprise Zone benefits to these communities to encourage investment and job creation. Read More...


Swissvale First!

Now it's easy to choose Swissvale businesses, first. Use our new online business directory to find store contact information or to search local, independent businesses, only! Stay tuned - businesses are in the process of adding coupons, specials and much more to their listings on this new site!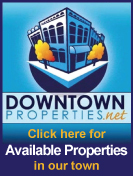 Also, users can search for main street properties available for sale or lease in Swissvale by using DowntownProperties.net